Hello and welcome to Wharton!  We realize you may be a bit overwhelmed with new information right about now, but want you to know that we're here to answer any questions you might have. We've compiled the basics of getting yourself as prepared as possible for the year to come, which we call:
     … n,v  [war-ton-ihz-ey-shuhn]
1.) Wharton Computing's initiative to get you up to speed on Wharton's technology.
2.) The process of configuring your devices and laptops for Wharton's technical environment.
The First Step….
is making sure you have the devices you'll need, and that they're set up properly. We'll cover the basics here now;  look for upcoming posts on resources and tips and tricks!
BUYING GUIDE
Looking to start the school year fresh with some new technology? Check out our buying guides for laptops, mobile devices (including tablets), and tech supplies.These give detailed guidance for not only the devices themselves, but also the most suitable programs and software.
DEVICE SETUP
Already have your devices? Time to set them up to work in the online environment at Wharton and Penn.
The top three things you'll need are:
Access to AirPennNet.
Your Wharton email account.
Printing.
Once you're plugged into these, getting the rest up and going will be a piece of cake.
For your mobile devices, you can find instructions for iOS devices, Android, and other devices  on the Student Computing website.  Configuring them now will save you a world of frustration in the long run and allow you to focus on coursework.
Laptop setup instructions are available as well. Whether you have a Mac or Windows , or both, you can learn how to register for antivirus and spyware protection, course and event feeds in SPIKE, set up laptop and mobile printing, log into virtual labs, and wirelessly connect to the LCD screens in the GSRs.
AIRPENNNET
And now what you've all been anxiously waiting for: WIFI. Penn's WiFi network is called AirPennNet, and is available all over campus. Connect using the wizard setup tool. Be sure to enter your Pennkey username and password when prompted.
EMAIL

Your Wharton email address is YourPennKey@wharton.upenn.edu. This address comes with all the benefits of Google@Wharton and remains active for a full year after you graduate. Setting up a Google Calendar and Drive right away is a great way to keep all your classes and materials organized and accessible.
Best of all, you have a lifelong forwarding address!  After your student email account is deactivated, all emails sent to your Lifelong Email address will be forwarded to an email account of your choice. We recommend you start using the lifelong address now — if you forward from the start, you'll avoid the inevitable transition all together.
PRINTING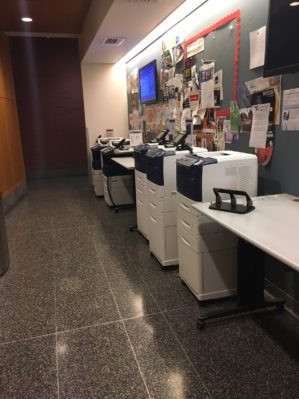 As far as printing goes, there are several options; no matter which option you choose, you'll have five hours to retrieve your print job before the job disappears from the queue.
To print directly from your laptop, you'll need to install the printing configuration application.  To print on a Wharton printer, first choose print from the file menu, and select black and white or color.  Enter your Pennkey when prompted. Next, find the printer model you selected, click print release, and tap your PennCard. Then it's as simple as selecting your document and hitting Print.
To print when using a mobile device, attach your document to an email and send it to print@wharton.upenn.edu. Once you get an email notification letting you know your job is ready you can head over to a printer. More detailed instructions on how to print are here.
And of course you can print directly from any Wharton campus computer — just choose whether you are printing  Color or Black & White  on the computer,  and then find the nearest printer to tap your PennCard.
WHERE TO FIND US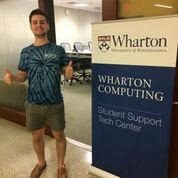 We know you may be busy and distracted right now, so if you find any of this information confusing, we are here to help!
The Student Support Tech Center is fully staffed, and we're ready to answer your questions, help diagnose problems, and provide you with advice of any kind.  We're located in SH-DH 114 Monday through Friday from 9 a.m. to 7 p.m Monday-Thursday, and Friday 9 a.m. to 6 p.m. We are always ready to quickly offer tech support in person, by phone: (215) 898-8600, or online.
by Julia Rosen, Wharton Computing Communications Intern